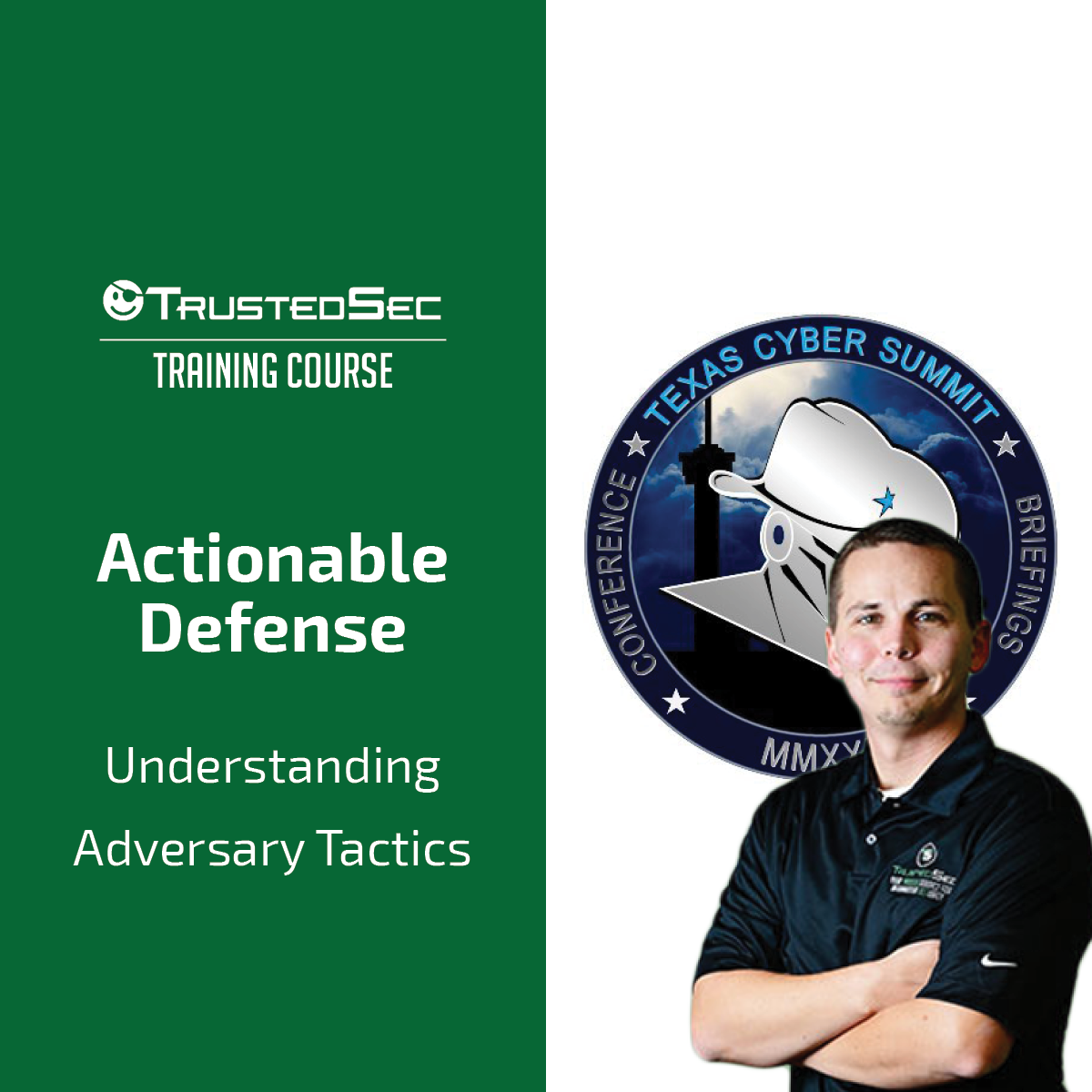 Actionable Defense: Understanding Adversary Tactics
Date: October 27 - 28, 2021
Location: Online
Actionable Defense: Understanding Adversary Tactics
Date: October 27-28, 2021
Location: Virtual
Join Ben Mauch and the TrustedSec Training Team, for our virtual two-day training course "Actionable Defense: Understanding Adversary Tactics."
OVERVIEW
Most organizations struggle with understanding specific techniques and methodologies around attacks. This class is designed for both penetration testers and defenders in a unique blend of both offensive techniques and how to best defend against them. Each module is designed to demonstrate the latest attack vectors used to simulate attacks against organizations and most importantly how to write detection's for them. This class focuses on the "purple team" approach which focuses on attacking and working on building detection's based on the attacks applied. This is a completely immersive experience with a simulated corporate infrastructure that allows you to focus on identifying attack behavior within a corporate infrastructure. The students will be provided with everything they need to understand how to conduct attacks as well as how to best detect them in a large environment. This class will go through the tactics, techniques, and procedures (TTPs) of attacks while building knowledge around how to write rules that focus on the behavior exhibited from them in order to better refine detection's within an organization.
Day 1 (Attack and Defense)
Introduction to Defense
Introduction to Linux
Discovery
Exfiltration
Responder
Kerberoast
Day 2 (Attack and Defense)
Password Cracking
Lateral Movement
Persistence
Getting DA
Secondary Attack Paths
Event Search with PowerShell
Paths of Least Resistance
Note: These topics are based on course pace based on student learning rates. Not all of these topics may be covered if the class is behind on topics and grasping concepts and understanding. We will make every attempt to cover all of these during the course.
Each module has a clear understanding of the attack and how the attack works as well as how to best effectively write detections for the attacks.
Learn from both offensive and defensive (red and blue) practitioners in the industry on the latest techniques and ways to defend/detect against attacks.
Utilize a simulated environment to practice your skills and learn in a controlled environment aimed at simulating attacks and defenses.
Improve your overall understanding of the ability to defend enterprises and learn the latest techniques around attack patterns.
---
KEY TAKEAWAYS
Ability to understand advanced attacker techniques and directly write detections to identify them. Understand unusual behavior in an organization and identify threats earlier on. Structure your program to handle new threats that come at your organization.
---
WHO SHOULD TAKE THIS COURSE
This class is great for defenders and penetration testers looking to learn more about defense and offensive capabilities. Individuals that want to leave the course with directly actionable items can directly apply in their day-to-day jobs.
Defenders
Penetration Testers
Beginners to Offense or Defense
Wanting to learn to code
Hunt Teams
Anyone looking to strengthen their offensive and detection capabilities.
---
AUDIENCE SKILL LEVEL
Beginner/Intermediate
---
STUDENT REQUIREMENTS
Students should have an understanding of basic Linux commands and be able to navigate through Linux.
---
WHAT STUDENTS SHOULD BRING
Students must have a laptop with VMWare/Fusion or similar (VirtualBox is not recommended) and ability to run multiple VMs.
The machine should have 40GB of free disk space available for the virtual machines.
---
WHAT STUDENTS WILL BE PROVIDED WITH
Virtual machine infrastructure provided by TrustedSec, all course material including commands, slides, and walkthroughs.
Texas Cyber Summit Training