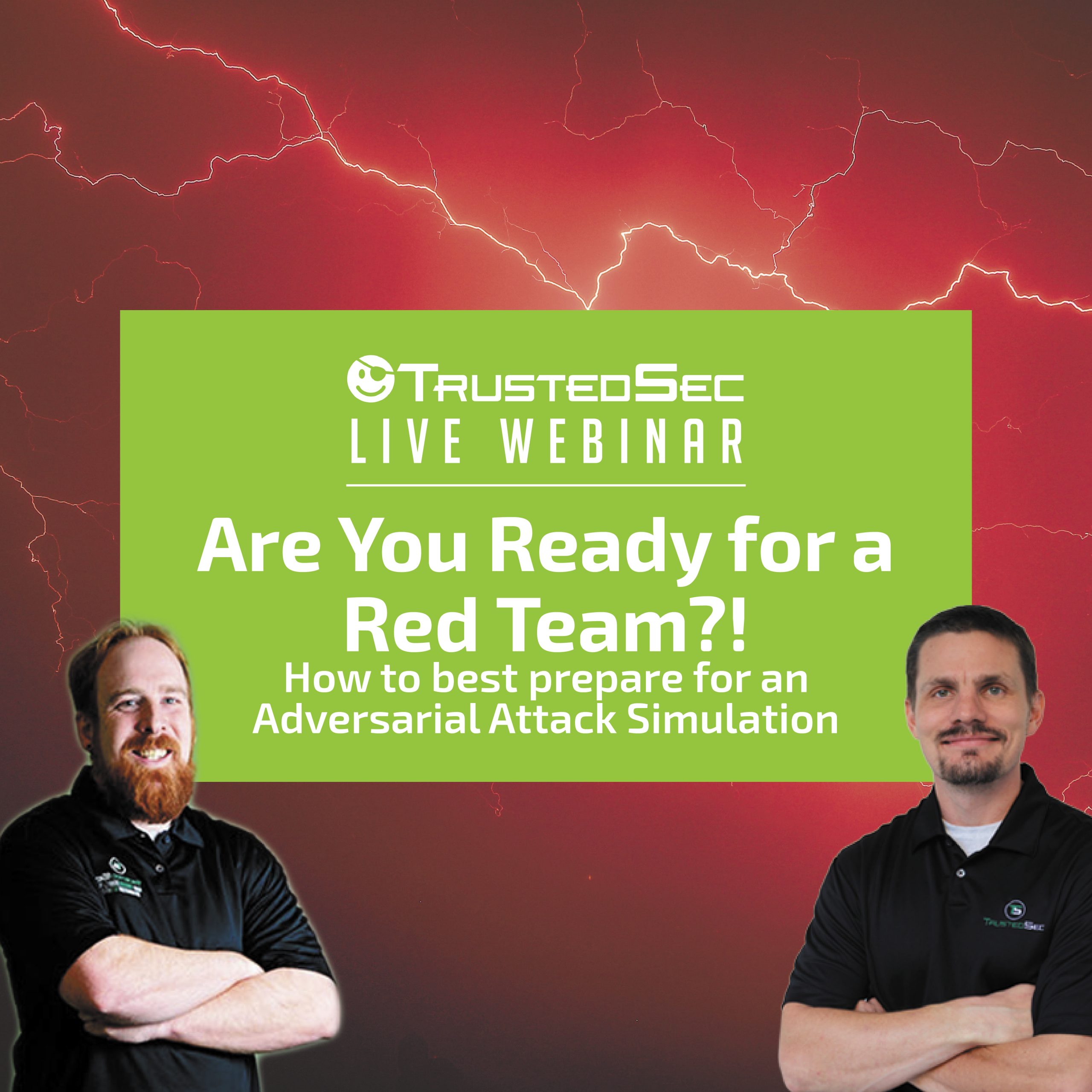 Are You Ready for a Red Team?!
Date: October 21, 2020
Register
Understanding the real-world effectiveness of your security controls is a crucial element in constructing a robust security posture.  Red Team engagements (or "Adversarial Attack Simulations" as they're known at TrustedSec) are extended, goal-oriented engagements using state-of-the-art tradecraft and unpublished tools that assist in this endeavor.
When is the right time?
Red Team engagements represent a natural evolution of security penetration testing for clients who have matured their security program. An integral characteristic of Red Teams is deciding when it makes sense to assess your entire security stack. If done too soon in an organization's maturity, it will waste money, but if done too late, the organization will have seen diminishing returns from a pen test and possibly incurred a false sense of security.
Planning an Adversarial Attack Simulation can be a daunting task.
Threats can come from traditional sources (such as an unpatched system or a user who fell for a phish) or from various unexpected places (like a rogue employee or a compromised device employed via a BYOD policy). With so many potential scenarios, how can you best consider all aspects of a Red Team to ensure a successful engagement?
What about the Blue Team?
Certainly, as an organization's defensive stance is continually improved, so should the methods used to test them. Knowing what you are getting into and properly preparing for an engagement will help ensure the value of the engagement, achieve the best possible experience in working with a Red Team, and build the capabilities and enthusiasm of the defensive team.
What to expect when you're (not) expecting.
Join renowned experts Justin Elze, Director of Innovation, Research and Advanced Testing, and Jason Lang, Senior Security Consultant, who will discuss the various elements of preparation, scoping, execution, and reporting for a successful Adversarial Attack Simulation.
Register