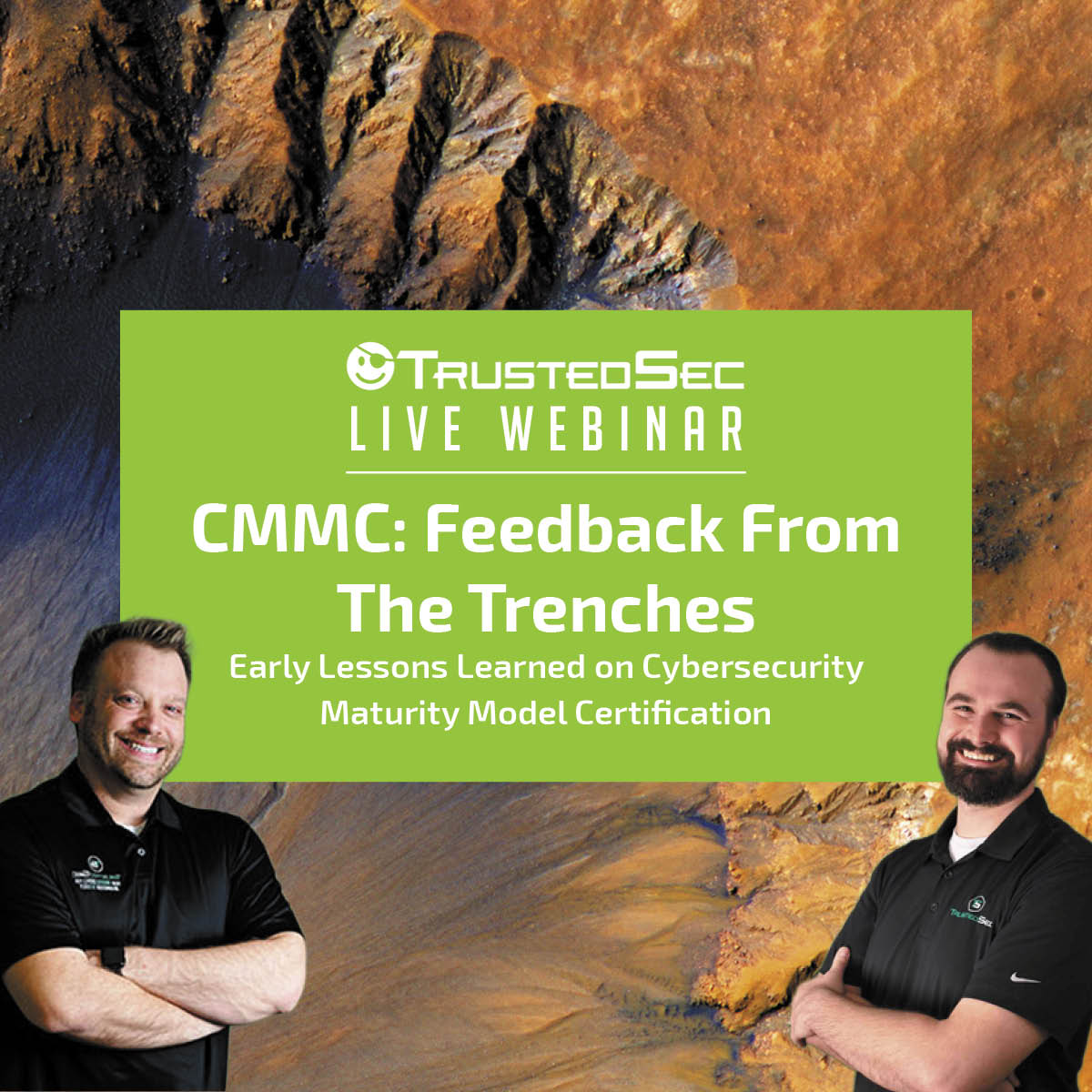 CMMC: Feedback From the Trenches
Date: March 03, 2021
Recorded on Wednesday, March 3rd, 2021
Early Lessons Learned on Cybersecurity Maturity Model Certification
If you are in possession of Federal Contract Information (FCI) or Controlled Unclassified Information (CUI) and are looking to get ahead in your Cybersecurity Maturity Model Certification (CMMC) quest, understanding the evolving challenges that other organizations are struggling with can be critical to your success.
In our first webinar on the subject, Getting a Grip on CMMC, we discussed the background on the standard, the transition from NIST 800-171, and the impacts to more than 350,000 suppliers in the Defense Industrial Base (DIB) supply chain.
Avoiding landmines
In this webinar, we will take you a few steps deeper into the tactical challenges that TrustedSec is helping others overcome. Many organizations have never been through a full security audit of any kind, while others are not heeding general security hygiene practices. Thus, taking on CMMC compliance can seem overwhelming. Even for organizations that have self-attested to NIST 800-171, fully meeting the CMMC controls still may come as a culture shock.
Best practices for saving time, money, and hassle
Join GRC Principal Security Consultant Rick Yocum, Practice Lead Alex Hamerstone, and Security Program Director Stephen Marchewitz as they discuss the tips and tricks that make the journey to CMMC smoother and more cost-effective.
Join us for this practical webinar.