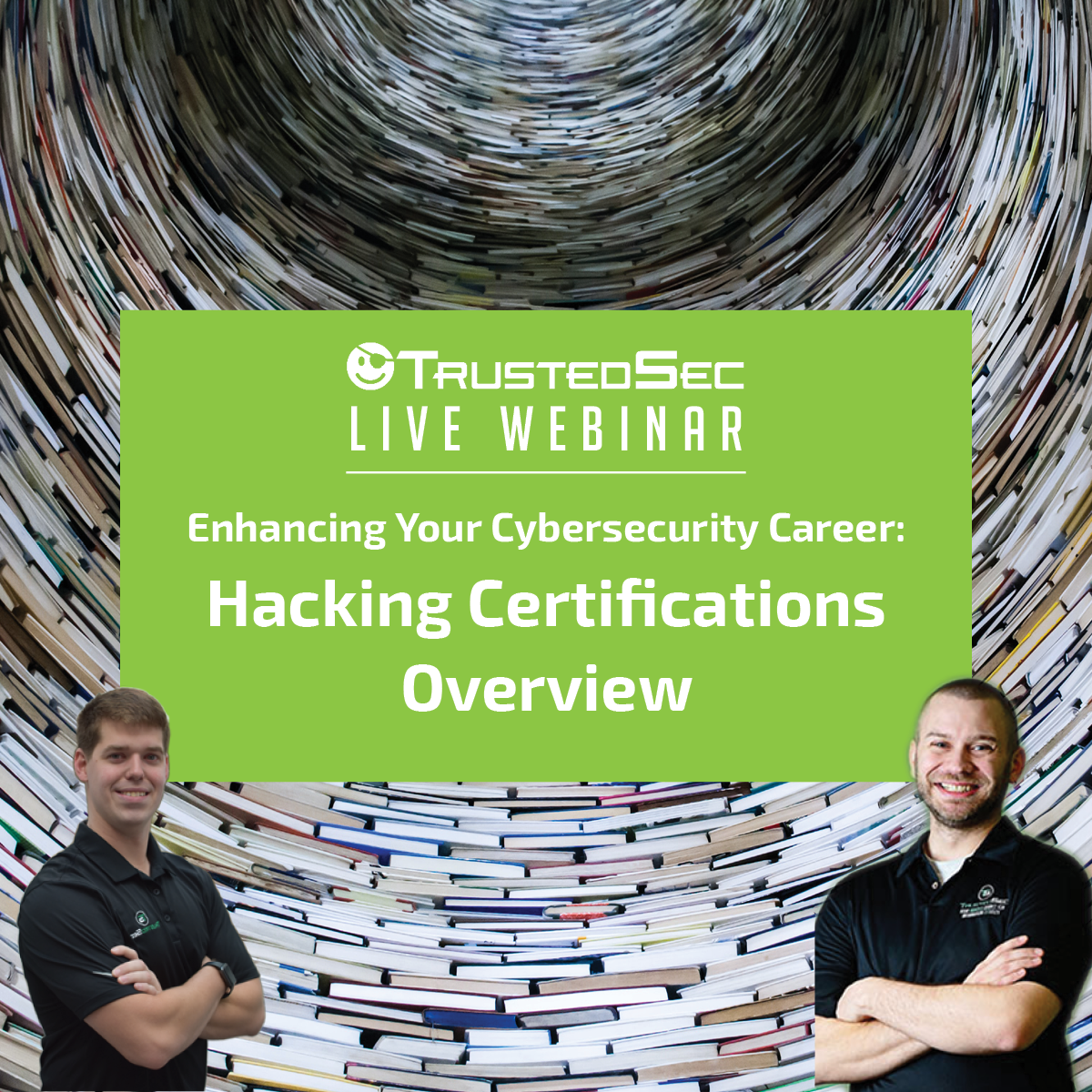 Enhancing Your Cybersecurity Career: Hacking Certifications Overview
Date: May 12, 2021
This webinar was recorded on May 12, 2021.
Ever Wanted to Know the Difference Between the Hacking Certifications?
Certifications can help you better understand threat actor techniques and how they affect an organization with regard to security, but there are a lot of certifications in the industry today. Deciding which certification is best for you can be a challenge.
Get a Lay of the Land…
Led by Senior Security Consultants Paul Burkeland and Logan Sampson, TrustedSec will provide an overview of common certifications, along with personal experiences and general perceptions. The certifications include:
Security+
CEH (Certified Ethical Hacker)
Various SANS certifications, including GIAC Penetration Tester
Red Team courses
General IT and networking certifications
CREST (Council of Registered Security Testers)
…And Get a Broader Perspective on the Offensive Security Certifications!
The Offensive Security Certifications (OSC) are for more advanced penetration testers that push the boundaries of attacks from end-to-end. As the OSC has become more recognized, it has earned the respect of even advanced assessors and comprises several certifications, including:
Offensive Security Certified Professional (OSCP)
Offensive Security Exploitation Expert (OSEE)
Offensive Security Certified Expert (OSCE)3, which includes:

Offensive Security Web Expert (OSWE)
Offensive Security Exploit Development (OSED)
Offensive Security Experienced Penetration Tester (OSEP)
TrustedSec will provide practical information and insights about which certifications have offered the most value to security industry professionals.
Join us for this informative webinar to improve your knowledge of certifications!