Swift Response Decreases Damage of Business Email Compromise and Attempted Invoice Fraud
A manufacturing company reached out to TrustedSec after falling victim to a business email compromise (BEC) and had begun transferring funds to a malicious account disguised as the company's law firm. The TrustedSec Incident Response team leveraged their experience and collaborative approach to quickly assess the situation, stop the attempted invoice fraud, and put in place measures to prevent future attacks.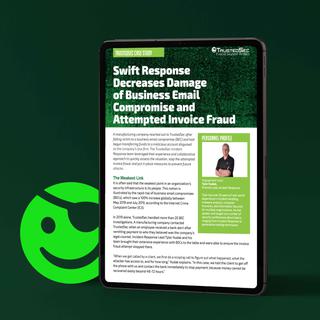 It is often said that the weakest point in an organization's security infrastructure is its people. This notion is illustrated by the rapid rise of business email compromises (BECs), which saw a 100% increase globally between May 2018 and July 2019, according to the Internet Crime Complaint Center (IC3).
In 2019 alone, TrustedSec handled more than 20 BEC investigations. A manufacturing company contacted TrustedSec when an employee received a bank alert after remitting payment to who they believed was the company's legal counsel. Incident Response Lead Tyler Hudak and his team brought their extensive experience with BECs to the table and were able to ensure the invoice fraud attempt stopped there.
SERVICES
Incident Response
Forensics
Business Risk Analysis
Remediation
BENEFITS
Quickly identified invoice fraud
Implemented procedural changes
Implemented multi-factor authentication (MFA)