TrustedSec Approved as a CMMC Registered Provider Organization!
CMMC Readiness Review
Program Assessment & Compliance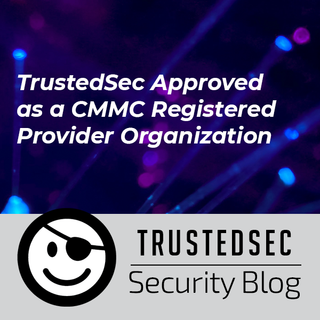 TrustedSec has been approved by the Cybersecurity Maturity Model Certification (CMMC) Accreditation Body (https://www.cmmcab.org/) as a Registered Provider Organization.
In line with our mission of increasing the security posture of organizations around the world, TrustedSec is pleased to be a part of the program aimed at improving and ensuring the security maturity of the Defense Industrial Base (DIB).
The CMMC model was created and is managed by the Department of Defense https://www.acq.osd.mil/cmmc/index.html. Building on the existing DFARS 252.204-7012 regulation and NIST 800-171 standard, the CMMC adds a verification component to the requirements in the protection of Federal Contract Information (FCI) and Controlled Unclassified Information (CUI).
Registered Provider Organizations offer advice, consulting, and recommendations to clients based on the constructs of the CMMC Standard and adhere to the CMMC-AB Code of Professional Conduct.
With an estimated 350,000 organizations in the defense supply chain, many lacking the full capacity of resources to address the various controls, TrustedSec is committed to supporting organizations of all sizes and maturity levels. TrustedSec's team is handpicked not only for expertise and technical skill, but for ethical character and dedication to the security profession. This allows TrustedSec the unique ability to bring best practices, an independent view, and hands-on support to ensure organizations become both secure and compliant.